Dhamma Malaya Timeline
Centres for Vipassana ~ Some early history
Sayagyi U Ba Khin, the teacher of SN Goenka in Burma, encouraged him to spread the teaching.
Goenkaji started teaching Vipassana in India in 1969, where the first Vipassana centres opened in 1976.
After 1979, Goenkaji also began conducting courses in many other countries.
Vipassana centres were opened in Europe, USA, and Australia in the 1980s.
In the 1990's centres were established in Asian countries such as Japan, Thailand and Taiwan.
Students in each country set up independent charitable organisations and donate funds to establish centres.
The first courses in Malaysia
The first Vipassana courses in Malaysia were held in 1998 at Panna Cave near Ipoh. The Principal Teacher Mr SN Goenka (Goenkaji) visited Malaysia that year and gave several public talks. He also appointed trustees who formed the Malaysia Vipassana Meditation Society (MVMS).
Non-centre courses
In 1999, Goenkaji appointed Area Teachers to advise the trustees. Over the next few years, 8-12 courses per year were held at various sites – temples, schools, and other locations. The first Malaysian assistant teachers were appointed in 2004-2005.
Centre land found at Gambang
In 2006, after a long search, land was found for a centre at Gambang, about 3 hours drive from Kuala Lumpur.
---
---
Developing Dhamma Malaya
During phase 1 of the centre development at Dhamma Malaya in 2006-2007, the following buildings were completed
Main meditation hall and mini-hall
72 single rooms with attached bathrooms for students
Office, kitchen and dining halls
Accommodation blocks for 20 servers
Facilities for 4 teachers including interview room
---
---
---
---
All of the pavers for 1.8km access road, bomba road and paths were also donated.
Electrical work, fans, hall and kitchen equipment and many other items were donated.
The perimeter fence and later the automatic gates were donated.
---
There were many significant donations of service, professional skills, equipment and materials to establish the centre.
More photos during construction can be seen for 2006, May 2007, and September 2007.
Dhamma Malaya Opens in 2007
The first course at the new centre was a 3-day course for old students in October 2007, which was attended by over 80 people.
The first 10-day course was also held in the same month, with 63 students attending.
Since then about two 10-day courses are held every month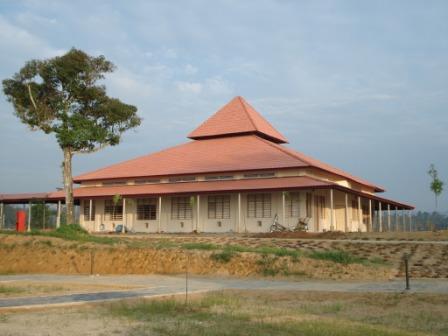 Open House, Training Workshops, First Tamil course for Teens.
An Open House Day in June 2008 attracted over 400 visitors from all over Malaysia
The

Dhamma

Server workshop held on the same weekend inspired many old students.
The first English/Tamil course was conducted in November 2008
Workshops for Assistant teachers, children's course teachers and servers have also been held.
Next phase of development
In August 2009, an additional 30 single rooms with bathrooms were completed to cope with the increasing demand.
The first 20-day course was held in September 2009.
Additional improvements included verandahs and covered walkways.
In 2011, a multi-lingual hall was constructed at the back of the main hall to cater for the increasing numbers of foreign students who needed to listen to discourses or instructions in another language.
In 2012, a temporary hall was constructed to prepare for the next phase of construction, as the main hall would be too noisy during construction of the meditation cells building. This temporary hall was later converted into an accommodation block.
Meditation Cell Building
To hold intensive long courses at a Vipassana Center, cells for private meditation are required. These cells can also be used for old students on other courses. A cell building project was started.
The building was built with 76 meditation cells during 2013-2014.
The internal design of the air-conditioned cell complex is based on similar facilities in Myanmar and India. The external design matches the existing hall.
The first 30-day course was held in April-May 2014
Thirty five students attended, half from Malaysia and half from other Asian countries.
---
First 30 Days course.
Meditation cells
More photos of the cell building in 2014.
Current facilities
By 2014, Dhamma Malaya could provide facilities which are very favourable for serious meditation.
Private accommodation and bathrooms for 102 students (42 men and 60 women)
Single rooms for 24 volunteer servers and larger rooms for six long term servers
Two-storey meditation cell building with 74 individual cells and air-conditioning
Two airy meditation halls with video capability
Multi-lingual facility in main hall
Spacious kitchen and comfortable dining halls
To cater for increased demand, in 2016 another block was added for men, so now 48 male students can attend courses.
Quiet surrounding piece of land, lake and tropical gardens
Women's area near the Meditation Cell Building
To view 2016 photos of Dhamma Malaya follow this link .